Paris currently boasts over 70 Michelin-starred restaurants, making it one of most foodie-friendly capitals in the world. Sieving through the list can be daunting (especially when you see the menu prices, which frequently ride over the €150 mark), so here's our list of the best Michelin eateries, whether you fancy food that has been awarded one, two or three (very dramatic) stars…
Plaza Athenee
The sheer glamour factor would be enough to recommend this restaurant, Alain Ducasse's most lofty Paris undertaking. The dining room ceiling drips with 10,000 crystals. An amuse-bouche of a single langoustine in a lemon cream with a touch of Iranian caviar starts the meal off beautifully, but other dishes can be inconsistent: a part-raw/part-cooked salad of autumn fruit and veg in a red, Chinese-style sweet-and-sour dressing, or Breton lobster in an overwhelming sauce of apple, quince and spiced wine. Cheese is predictably delicious, as is the rum baba comme à Monte-Carlo.
    L' arpege
Assuming you can swallow an exceptionally high bill – it's €42 for a potato starter, for example – chances are you'll have a spectacular time at chef Alain Passard's Left Bank establishment. His attempt to plane down and simplify the haute experience – the chrome-armed chairs look like something from the former DDR – seems a misstep; but then something edible comes to the table, such as tiny smoked potatoes served with a horseradish mousseline. A main course of sautéed free-range chicken with a roasted shallot, an onion, potato mousseline and pan juices is the apotheosis of comfort food. Desserts are elegant.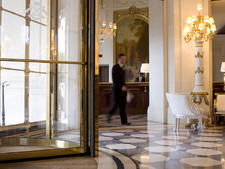 Le Meurice
With its extravagant Louis XVI decor, mosaic tiled floors and modish restyling by Philippe Starck, Le Meurice is looking grander than ever. All 160 rooms (kitted out with iPod-ready radio alarms) are done up in distinct historical styles; the Belle Etoile suite on the seventh floor provides panoramic views of Paris from its terrace and you can relax in the Winter Garden to the strains of regular jazz performances. For more intensive intervention, head over to the lavishly appointed spa with treatments by Valmont; or give your taste buds a whirl on chef Yannick Alléno's refined 3-star Michelin cuisine.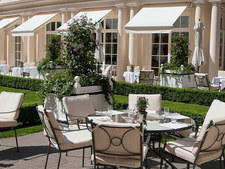 Hotel le Bristol
Set on the exclusive rue du Faubourg St-Honoré, near luxury boutiques such as Christian Lacroix, Azzaro, Salvatore Ferragamo, Givenchy and Dolce & Gabbana, the Bristol is a supremely luxurious 'palace' hotel with a loyal following of fashionistas and millionaires drawn by the location, impeccable service, larger than average rooms and a three Michelin-starred restaurant with Eric Fréchon at the helm. The Bristol's new seven-storey wing opened in late 2009, with 22 new rooms and four suites, all with views of the Eiffel Tower.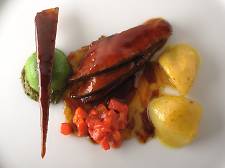 Pierre Gagnaire
At Pierre Gagnaire most starters alone cost over €90, which seems to be the price of culinary experimentation. The €90 lunch menu is far from the experience of the carte: the former is presented in three courses, whereas the latter involves four or five plates for each course. Even the amuse-bouches fill the table: an egg 'raviole', ricotta with apple, fish in a cauliflower jelly, and glazed monkfish. The best thing about the lunch menu is that it includes four very indulgent desserts: clementine, raspberry and vanilla, chocolate, and passion fruit.